Start of main content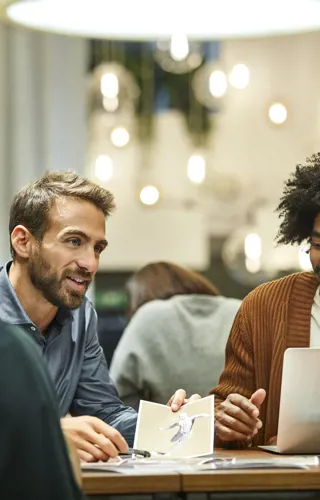 Technology and solutions  
Our technical experts oversee the governance, infrastructure and functionality of our IT systems, products and tools at the IET. As a member of this team, you might be providing colleagues with technical support, or involved in the product design, development, programming or administration of our internal systems, websites and award-winning digital products such as Inspec and MyIET. 
You'll find our 'tech team':
Working with the business to prioritise development projects.
Helping to improve the digital experience and ensure accessibility for all.
Keeping our technology estate secure, robust and up to date.
Engaging with suppliers around the world to deliver our tech solutions.
Collaborating on award-winning digital projects. 
---
Publishing and research
As a part of our publishing and research team you might be involved in the publication of technical papers, books and journals or helping develop the UK's electrical regulations and standards. Perhaps you'll take part in the production of courses for engineering and technology professions or engage with partners to develop new business opportunities and increase the use of our products and tools, such as Inspec.
Join the E&T team: an award-winning magazine with a worldwide circulation of over 140,000.
Help develop the industry-renowned IET Wiring Regulations, which is co-published with the British Standards Institution (BSI).
Work on our open-source journals library created in collaboration with Wiley. 
---
Members and customers
Our mission is to inspire, inform and influence the global engineering community and we do this by providing a wide of services and solutions to our members and customers.
We have more than 167,000 members in 150 countries and work tirelessly to ensure they get the most out of their membership. We also connect our customers with the products and solutions they need to excel through our range of partnerships.
Customer and membership roles are found throughout our organisation. Areas you could be working in include:
Customer service
Membership support
Sales and business development
Membership development
Professional registration
Standards support
Training
---
Making connections
Much of our work is about making connections; providing networking opportunities, creating and connecting engineering and technology communities and bringing together industry and academia.
Our work is supported by a global network of 4,000+ skilled volunteers and industry ambassadors who are integral to our success. Join our family and you could find yourself:
­Working alongside volunteers on the IET's Local and Technical Networks.
Inspiring and supporting the next generation of engineers by engaging with Young Professionals.
Supporting our inspiring volunteers.
---
Strategy delivery
As a professional body and a charity, we recognise the need to work in close partnership with stakeholders to deliver the IET's vision and mission.
Whether you're involved in a product or programme management, business analysis, thought leadership, strategic engagement, planning or governance, you'll be integral to supporting the needs of engineers and technologists, the organisations they work for and wider society.
Within strategy delivery you could be:
­Advising and shaping our policies both internally and externally.
­Working closely with the government to keep STEM a priority.
Keeping us focused on the future and working towards common goals.
Bringing IET strategy to life.
Equipping us with insights to enable us to innovate.
Knowledge sharing.
Working on our equality, diversity and inclusion (EDI) initiatives. 
---
Education and fundraising
Education and fundraising are at the heart of our work at the IET. As part of these teams, you'll help to inspire the next generation of engineers through a wide range of science, technology, engineering and maths (STEM) resources and programmes and encourage them to fulfil their full STEM potential with the added bonus of funding, available from our range of undergraduate and postgraduate scholarships, bursaries and prizes enabling students to support their studies.
We focus on smashing STEM sector stereotypes by going out into the community and schools to show young people the fantastic engineering career opportunities that are open to all. 
We work closely with partners to deliver engaging STEM projects, such as the UK leg of the international First Lego League. Across the world, over 35,000 teams of children take part in this exciting robotics and real-world skills competition each year.
Here's just a taste of the work you could be involved in:
---
Marketing, communications and design
Our marketers, communicators and designers give life to our brand, injecting personality to ensure our messaging is fresh, modern and relevant.
They promote our work and share success stories from our members and communities, working tirelessly to ensure our content and communications always inspire, inform and influence.  
Join our family and you could be involved in anything from delivering and advertising IET products to influencing opinion and policy. Roles include (but aren't limited to):
---
Events and venues
Connecting people and sharing knowledge are core parts of what we do at the IET. Every year we run more than 1,500 events across the world, from multi-day conferences and seminars to talks, technical visits and awards.
We offer a mix of virtual and physical events; many of which are held at our UK venues in London and Birmingham. These feature high-end AV technology throughout, as well as dedicated facilities for members.
As a member of the community team you could be working closely with our volunteers to develop Local Network activities ­– staff and volunteers working in collaboration is a key part of our event mode. Or as part of the venues team, you could be working behind the scenes on our flagship awards ceremonies,  setting up AV systems for broadcast or providing support to members in our networking and collaboration spaces. 
Here's just a taste of the work we get up to:
Our events cover a wide range of topics and are aimed at everyone from academics, engineering professionals and policy makers to students and children.
Our iet.tv platform ensures events are available to people around the world.
Our venues in London and Birmingham are destinations for many of the IET's UK-based events and are also regularly used by external companies.
Our flagship venue IET London: Savoy Place hosts major ceremonies including the Achievement Awards, President's Address and Young Woman Engineer of the Year Awards.
IET London: Savoy Place is also home to the Faraday Centre – a networking and collaboration space for our members. We regularly have 300+ visitors a day.
---
Supporting teams
They're key to our success; ensuring our work environment and venues operate smoothly, providing learning and development opportunities and working to create an inclusive environment and culture so our people can thrive.
Join our specialist teams in areas including:
Human resources
Talent attraction
Learning and development
Finance
Procurement
Payroll
Facilities and warehouse
Administrative support