Start of main content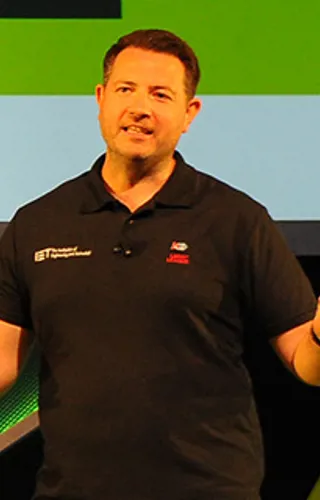 What if your position was more than just a role?
His role is to look after the whole education team and support their work inspiring the next generation of engineers and technicians.
"We work closely with schools and parents, providing them with activities, competitions, challenges, information, funding and career advice that will hopefully ignite a spark in children to pursue a career in science, technology, engineering and maths (STEM)," he says.
The Education department provides a wide range of resources designed to inspire children at a range of different ages: from four all the way through to 19.
"I love that we have the ability to really make a difference. We don't just tick boxes, our work has a meaningful impact."
Examples include school and career fair visits from IET volunteers and the ever-popular Faraday Challenge Days and FIRST® LEGO® League competition.
"For Faraday Challenge Days we partner with different organisations each year to set a theme and challenge for that academic year. Recent partners have included Network Rail, Airbus and Thorpe Park. Over the course of the year there's a leader board, with the winners going on to compete at a national final.
"Then there's FIRST® LEGO® League, the largest STEM competition not just in the UK, but globally. This is split into three divisions, with LEGO-related, age-appropriate challenges for teams to work on. Teams compete at regional tournaments to win a place at the national final, where the winner will be crowned and progress on to compete on the global stage in an international open.
"With this, we're changing perceptions of engineering and even changing lives by providing funding that enables children from disadvantaged backgrounds to participate."
Resources aren't just aimed directly at the children, however. For example, the department has resources that are aimed at parents, such as a 'parent's guide to STEM', which shows how varied a career in engineering can be.
"We're aware that the biggest influence in a young person's life is their parents and the views of those who don't work in STEM or have a lack of confidence in STEM subjects can rub off on their children, meaning they might not be encouraged to peruse those subjects."
Then, during the pandemic, the IET also put together a range of educational resources to support STEM home schooling. "These were very popular during the lockdown – we averaged around 22,000 downloads in the first month," David says proudly.
The power to influence change
In addition to supporting his staff with these kinds of projects, David is also involved in guiding education policy, and uses the organisation's standing to influence government and make recommendations on how engineering and technology could be better embedded in the UK curriculum and more visible within schools.
He sits on numerous advisory boards and groups – some of which he chairs – helping to shape the direction ministers will take STEM education.
"The work we do through education policy has the potential to make a huge difference," he says, "and the IET's reputation has weight. It opens doors and gets calls answered, which enables us to get things done."
So much more than just a role
David says both he and his team feel that what they do at the IET is much more than just a job, it's making a real difference.
"There's that phrase, find something you love and you'll never work a day in your life. We love what we do and are passionate about inspiring youngsters.
"This means I never need to give any motivational talks, ask people to go above and beyond or stay an extra hour to get something done. We all just do it without a second thought, because we know our work has such a meaningful impact."
Launching the Digital Poverty Alliance
One of the things David has worked on during his time at the IET, that he's particularly proud of, is his involvement in launching the Digital Poverty Alliance.
Born out of the pandemic, which highlighted the digital divide, David came up with the idea of creating a movement to work towards ending digital poverty in the UK by 2030.
"Without the backing of the IET this is not something I would have been able to get off the ground. It's great to have the autonomy to pursue these kinds of ideas and have the full support of your employer.
"It really is a great place to work, which is why we attract such excellent candidates. We're doing something quite special here, something very rewarding, so why wouldn't you want to come and be a part of that?"