Start of main content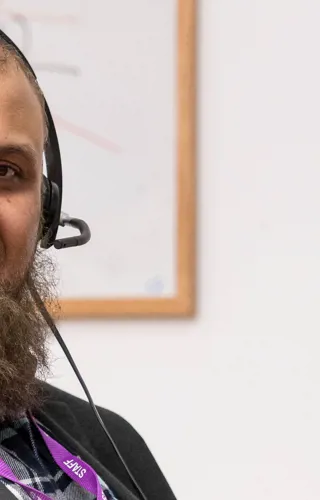 What if you could connect the problem solvers?
Haroon Kiani is a Programme Manager at the IET. He oversees the day-to-day management of the organisation's Inspec offering; a prominent resource for accessing engineering and technology research.
Most recently Haroon oversaw the development of the new Inspec Analytics platform. This offers subscribers the ability to uncover trends and patterns that may in turn enable them to identify the next hot topic in research or provide a competitive advantage.
"As a Programme/Project Manager
I'm an agent of change"
Haroon was given a set of requirements and then tasked with putting together a team to develop the platform, and then manage the delivery team as the project went on.
Working as a change agent, or enabler
"Being a Programme Manager is about connecting people or solutions," he says. "From day-to-day, my job is all about enabling my team to do their work by solving any problems that block their way.
"That might be gaining access to a system or piece of software, or putting them in touch with the right people within the business. I act like a scrum master, putting all the pieces together to ensure that delivery is continuous. I also look at the costs of a project, the timelines and what the priorities are for the business – there's a lot of multitasking!
"I act as a change agent or enabler, and this is what I really enjoy about my work. For me it's all about bringing everyone together, facilitating the conversations that need to happen. I enjoy working with people and this is what my job is all about. You interact with different people, connect them in order to deliver a product or come up with an interesting solution to a problem."
Connecting the people that solve the problems that matter
Not only is he an enabler of change within the business; Haroon's latest project is helping to connect universities and companies with researchers that can solve important problems.
Inspec enables both organisations and individuals to search for research papers on a wide range of science and engineering subjects. This not only offers them access to important information that can help with their own research but also potentially connect them to the authors themselves.
"Inspec Analytics, the area we're focusing on at the moment, allows subscribers to deep dive into statistics," says Haroon. "Universities can compare themselves against others in terms of specific research, and research directors can see where a particular subject is being heavily invested in, or where the most prolific articles on a particular topic are being published.
"Organisations can use our database to see who's got expertise in a particular area," he points out. "If you're looking for someone with a particular specialism or trying to find out which author or organisation is most prolific in a specific area, we can help you.
"For example, with Coronavirus we've seen agencies using our database to see who's got the expertise and look for potential collaborators. We're helping to connect the people that solve the problems that matter."