Start of main content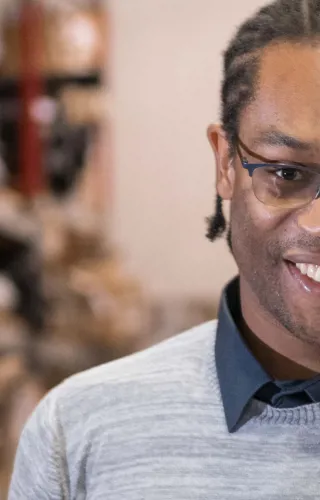 What if your work was far-reaching?
Lewis Findley is a Marketing Executive within the Marketing and Communications department. Part of his role is to help support the Knowledge Services and Solutions directorate, a trusted source of essential intelligence, publishing professional and technical research books across 21 specialist disciplines.
Lewis' role as a marketing executive is to support the objectives of his colleagues within the IET Books and IET Journals team. This often revolves around promoting new publications.
"I might be asked to promote a new piece of research or book or create a marketing campaign showcasing what's happening in a certain journal. I get to tell the subscribers about the latest technical books available and what new research is underway in their area of expertise. I also tell them about the ways they could get their own research published through the IET.
"By promoting research I'm helping engineers and researchers access the information they need to solve the problems they're tackling."
"My work is a great way for subscribers to find out what's happening in certain areas, and I use all the tools at my disposal, from email newsletters through to social media. There's a lot of variety in what I do."
Indeed, Lewis gets to cover a wide variety of cutting-edge topics through his work – recent campaigns have focused on everything from nanodielectrics and engineering biology through to computers and cognitive systems and quantum communications.
"It's very technical; I can't say I understand it all when I read the abstracts, but I look at it and think the work these people do is amazing! However, my marketing background enables me to understand how best to promote them. I focus on finding the best way to reach the readers, putting the information down in a way that grabs their attention and inspires them."
A dynamic role
No day is ever the same for Lewis, and he really enjoys how dynamic his work is.
"I always get to meet and work with new people on different projects, which I love. I could be doing something on social media or designing and developing a marketing plan. There's always something to keep me busy, which is what I want from a job.
"I like that the IET doesn't just employee engineers. It understands the need for staff with a variety of skills sets. It's using my skills, knowledge and experience to give the organisation fresh ideas, which it can use to be more diverse, effective and proactive. "
Far-reaching effects
Lewis also gets a kick from his work because he feels he's contributing towards the IET's vision of 'working to engineer a better world'.
"There's a lot of satisfaction from my role," he says. "By promoting this research I'm helping engineers and researchers access the information they need to help solve the problems they're tackling. So, when I'm working, I always know that I'm contributing towards solving the problems we face as a world by reaching the decision-makers and engineers that can create the solutions.
"I've promoted exciting research on energy engineering which looked at greener ways to generate power and within healthcare technology. And the work we do is far-reaching. We're providing information and tools to engineers and technologist all across the world, sharing knowledge globally. This really illustrates the influence of the IET," he concludes.