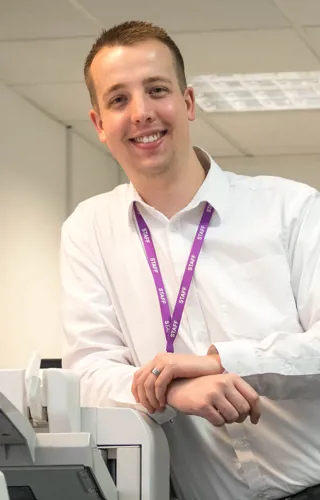 What if your work really impacted the business?
As Assistant Facilities Manager at the IET, Shaun Dreyer's role is to ensure it's 'business as usual' for his colleagues. Working together with the facilities manager, Shaun looks after the health and safety and wellbeing of all IET staff and makes sure that they have everything they need to do their job.
"We make sure that all facilities are up and running – from the toilets and coffee machines through to the printers. The last thing we want is for our staff to have to stop the important work they're doing because something isn't working," Shaun says. "Simply put, we want the staff to turn up, be able to do their job and not worry about anything else. The anything else is what we do!"
"The last thing we want is for
our staff to have to stop the
important work they're doing
because something isn't
working"
Shaun spends 50% of his time at his desk; putting in calls, making orders and writing risk assessments. The other 50% he'll be out and about across the business. One day he might be helping with a desk move, the next he could be undertaking display screen assessment (DSE) assessments for staff.
"We'll make point of walking the building a couple of times every day – this way staff see us and can come to us quickly if they're having an issue. This can actually pre-empt problems."
Essential work
And his role as an essential worker was highlighted when COVID-19 hit, as the facilities team needed to continue coming into the office.
"If we'd entirely shut down the building it would have taken weeks to open back up as we'd have to flush all the systems and then test everything. It was better to have us continue coming in and keep things ticking along," he explains.
Shaun's also a problem-solver and often called upon to help out in an emergency.
"We regularly have members of staff come to us last minute and help them out of tight spots. If there's been a delay with a supplier, we might have to urgently courier something for example."
A few years ago, Shaun and his manager saw an opportunity to save the business a lot of money by bringing all the marketing printing in-house. Now the facilities team oversees 80% of the marketing department's printing – this has saved the IET over £100,000 a year.
"We received an award for the project, the acknowledgement was really nice. Now we can get people out of a bind when there's an urgent printing job to do. We can prioritise things and have even managed to turn around one leaflet print run in just an hour. We're happy to help people get out of a hole, take the stress off their shoulders and let them get back to the work at hand."
More than just a job…
Shaun loves the variety of his work and also the interaction with members of staff.
"I love that we rarely get two days that are the same, and its great getting to talk to my colleagues and hear their stories. The best bit? When I go home, I can say I improved at least one person's situation that day. I made their job easier and hopefully helped them have a good day too."
As you can see, Shaun's role is hugely wide-ranging and touches the entire business. Essentially, he's the IET's 'enabler'; the one that keeps everything going.
"The facilities team is important in our own special way; we keep the wheels greased," he says. "It's all behind the scenes stuff but has a butterfly effect across the business.
"By doing one simple task I might help a colleague achieve something special; something that may have a big impact on the engineering community or even society in general."