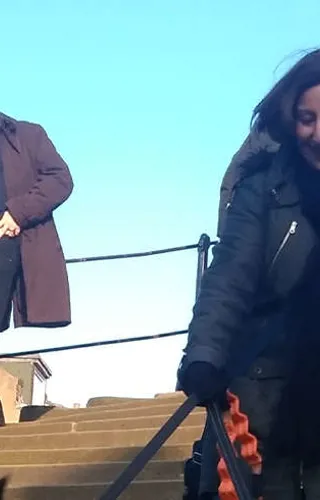 What if you could work wherever you wanted?
Lesley Roe is the IET's Data Protection Officer and is responsible for ensuring the organisation is compliant with all required data protection laws.
"I make sure that privacy by design is right at the centre of projects"
Her work entails keeping abreast of the latest changes in data protection legislation around the world, communicating this out to the business and providing staff with the necessary training.
"I believe that education and communication is at the heart of what I do. Everyone at the IET needs to understand they're responsible for personal information and know what to do to protect it," she says. "Therefore, a lot of my work is developing information guides, running bespoke workshops and being involved in the development of new products and services to make sure that privacy by design is right at the centre of projects."
As well as developing guidelines and policies for the organisation, Lesley and her deputy are always at the end of the phone to respond to staff queries.
"We're probably some of the most well-known people in the organisation," she laughs. "Any of our 500+ colleagues can telephone, email, Skype or Zoom us at any time with their questions. We're always here to respond to any questions they might have around privacy and data protection."
Fast paced and varied
One of the things Lesley enjoys most about her work is the fast pace and variety. "I've been here eight years and no one day is the same – you never know what you're going to get," she says. "You can plan but you have to stay flexible as things are always changing. Take Brexit for example; each week the situation would change so we always had to keep one eye on what might happen next.
"I've never been in a job as long as I have with the IET," she continues. "I think it's because the work is so interesting and fast paced. There isn't a week that will go past without me learning something new, and I thrive on that!"
She also likes working in such an innovative environment, where the business is always open to exploring new ways of working. For example, the IET supported Lesley's idea to be more creative with her data protection training, which enabled her to get more staff engaged with what could be seen as a rather dry topic.
Opportunities to innovate
"Beforehand the IET had a 'generic' data protection course, but I wanted to do something different each year that would be more relevant to people. One year, for example, I focused on our website privacy notice and created a short video with a Q&A at the end. Each time I take a different aspect of data protection and present it in an engaging, interactive way."
Lesley had to also be innovative when it came to training during the pandemic. On this occasion, she converted a face-to-face workshop into an online event that would keep attendees engaged.
"Online learning is a totally different space. Face-to-face you can talk for 10-15 minutes without an issue and can see if people are engaged or you're losing them. That's not so simple in a virtual space. So I changed how I taught. I made use of short YouTube clips, changed things up every five minutes or so by asking questions or getting them to do a small task. This was a real learning curve for me, but an interesting challenge to take on."
Open to flexible ways of working
The IET has always been open to flexible working and Lesley regularly spent time working from home. However, she took things to the next level when her family decided to relocate from Stevenage, Hertfordshire to Harrogate in Yorkshire.
"My husband was tired of the commute to Canary Wharf and had the opportunity to base himself at his employer's HQ in Leeds. One day we just got into the car and drove to take a look at the area and the moment we entered Harrogate I knew this was where I wanted to live. So, I got back, went to my boss and said 'you know I work from home once or twice a week, would you mind if I did that a bit more?'," she laughs.
"I've now been living in Harrogate for three years and the flexible working's going really well. When the office was open, I'd come down on the train every couple of weeks for back-to-back meetings, but otherwise, work full-time from home. If anything, it's taught me I can get far more done here. I'm really grateful for the IET's support of flexible working, as this enabled me to get the work/life balance I really wanted."