Start of main content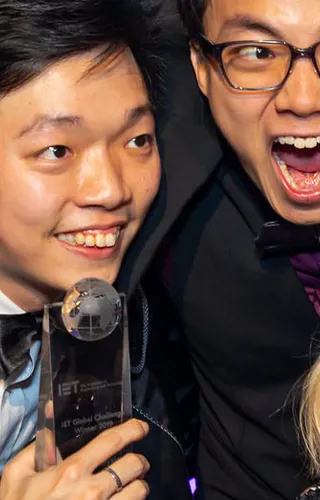 What if you could inspire the leaders of tomorrow?
Lizzie Truett is the IET's Strategic Development Manager - Young Professionals; a role which sits within the organisation's Knowledge Services and Solutions directorate.
Her job is to support the IET's young professionals (YP) community – made up of members aged between 18-35 – by providing a point of contact within the organisation, helping them get the most out of their membership and giving them platforms for exposure.
"Here I'm able to develop new
things, but also have the
power to make changes if I
don't think something works"
"We offer a variety of volunteering opportunities, as this is a great way to stand out in today's job market," she says. "There's also the Present Around the World competition, which is a chance for YPs, globally, to hone their presentation skills and gain exposure within the wider engineering community."
As well as working closely with the YPs themselves, Lizzie's work is also strategic. She's always looking into ways the IET can better serve these members, but on the flip side, she also ensures that YPs understand and engage with the IET's strategic goals. "I show them what the IET is trying to achieve, and ask them how they can help."
Opportunities to diversify
Lizzie was given the opportunity to move into this role from the IET's marketing department, where she felt she'd hit a career ceiling. "I wanted to gain new experience in people management and strategy and so I looked for different opportunities within the organisation. The IET's great at giving you opportunities to diversify.
"Although I didn't have the traditional experience needed to move into this job, the organisation believed in me and saw I had the transferable skills needed. I absolutely love this role, it's empowering; I really have a say. Here I'm able to develop new things, but also have the power to make changes if I don't think something works. I'm involved in some of the work that the IET really excels at and getting to be at the forefront of that is really exciting."
The highlight of the job, however, is working with such inspiring people on a daily basis.
"Some of them are just 18, but so passionate and articulate, and working with these volunteers on a daily basis is what I love the most. They're future leaders – both within the engineering industry and the IET. I get to work with people that are going to be future presidents of the IET!"
The global nature of the role
A big part of Lizzie's role is looking after the IET's Young Professionals Committee (YPC). This a group of 14 members chosen to represent the wider YP community within the IET. They meet regularly to discuss ways the organisation can support their early careers and professional development, work on new projects and come up with ideas around engagement.
"Many YPs start on this committee, and then you see them permeating through the main IET boards and committees because it's a really good entry into the governance of the IET," Lizzie highlights.
Lizzie believes it's important that members of all walks of life are represented within the committee. This is why the YPC currently has representatives from Australia, Hong Kong, Malaysia, Kazakhstan, India, UK, America and Canada. In addition, until the COVID-19 pandemic struck, each meeting would take place in a different country.
"We've met in Boston, Singapore, Bangalore, Dubai…we try to move around the world to make sure each region gets visibility of our committee and show YPs what they can achieve and how the IET can help," she says.
With such a mix of individuals, it's important that people consider cultural differences, and so meetings always begin with a reminder that the room is about respect.
"We're not on our phones or laptops while people are speaking, we're engaged and we critique ideas, not people. That's treating others with respect," Lizzie says.
"We also keep in mind that some cultures aren't as comfortable in coming forward in group discussions, so we'll have different types of sessions. For example, we'll hold Post-it Note sessions where people can write their ideas down and then it goes up on the wall. We make sure everyone feels their voice is heard in a way that makes them comfortable."
Making a difference
In just two years Lizzie has touched many lives through her work. She introduced a number of young engineers and technicians to the IET and the support it can offer, has nurtured a number of professional and personal relationships, and has seen YPs gain education and career-advancing opportunities through their engagement.
"One student from Loughborough came out to our Singapore YP conference and ended up gaining a summer internship there through the contacts she made. I'm very lucky that my role shows young people that there's more to the IET, and the world, than their immediate bubble. There are global opportunities out there!"