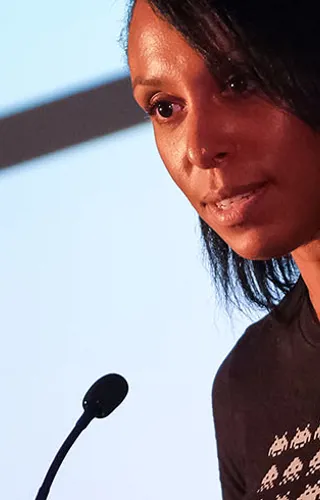 What if you could inspire a more diverse community of engineers?
Jo Foster works as the IET's equality, diversity and inclusion (EDI) manager, a role which sits within the IET's International Strategic Marketing and Engagement directorate.
Internally her work revolves around embedding EDI processes throughout the organisation. She runs the IET's EDI Committee, which has a heavy focus on ensuring employment processes are inclusive and that our organisation is viewed positively by both potential and present employees.
"The work you do positively affects not only your colleagues, but also IET volunteers and members"
She's also there to answer any questions colleagues have relating to diversity; providing information from either a business or moral perspective.
Promoting diversity within engineering
Externally Jo focuses on the ways the IET can help address the engineering skills shortage by promoting diversity within the sector.
"I look at multiple diversity strands, focusing on everything from ethnic minorities and the LGBTQ+ community through to neurodiversity and disability," she explains.
Jo's work varies from day-to-day. She's created and overseen a variety of EDI initiatives, from national days designed to encourage minority groups into the STEM profession, through to conferences and awards. In addition, she continually engages with special interest communities and organisations in order to showcase that engineering is for all.
"My remit is very broad, it's multifaceted and yes, a huge piece of work. But I love that it's always evolving, that there's always something new to do. That's what keeps things interesting."
Equality, diversion and inclusion initiatives
Over her time as EDI manager, Jo's been involved in a wide variety of successful initiatives designed to address some of the negative perceptions around engineering.
For example, surveys have found that lots of children, parents and teachers viewed engineering as a profession for middle-aged white men. In response, Jo became involved in several campaigns designed to address this view and demonstrate that engineering is, in fact, for everybody.
These included the #IAmAnEngineer campaign, which showcased engineers from all walks of life; providing visible role models to groups that may not have believed engineering was a career option available to them.
Encouraging more women engineers
Many of the projects Jo has worked on have focused on improving gender diversity within engineering.
Two of those she's most proud of overseeing are the award-winning #9percentisnotenough social media campaign, which was designed to highlight the fact that – at the time – only 9% of the UK's engineering and technology workforce were women and the Woman Engineer (YWE) of the Year Awards.
Jo oversaw the renowned industry awards for five years, and over that time introduced process changes and partnerships that improved diversity within the competition and also saw the number of overall applicants rise year-on-year.
"We began working with special interest groups like the Association for Black and Ethnic Minority Engineers (AFBE-UK) and Interengineering, which promotes LGBTQ+ diversity and inclusion within engineering, to promote particular areas of diversity. By reaching these audiences we noticed a rise in applicants from these groups," Jo says.
She's also proud of how her work has improved the lives of many individual women engineers. YWE winners are now given agents as part of their prize, which has opened up new opportunities and enhanced their professional standing.
"Some have become public speakers and had the opportunity to appear on television shows. One was even invited to talk about her work in Vogue magazine," she says proudly.
"These women have been given unique opportunities not only to demonstrate their own skills but also show what engineering really is and alter those negative perceptions."