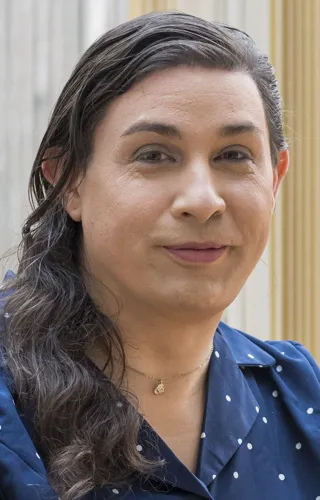 What if you could bring your whole self to the workplace?
Amy Roberts works as a solutions architect within the IET's IT and Digital Services team. Her role is to help create websites, platforms and software that enables people to find and share information, support their career and make connections.
"Effectively I work with the product owners within the IET to develop platforms, websites or software that meet the needs of their users," she explains. "From day-to-day, I'm working behind the scenes 'plumbing the piping'; making sure our suppliers are working together correctly to connect everything and develop a solution that works."
"The IET's got a big family feel, and that's what you want – a loving environment to work in"
Amy gets a kick from this work as she's all about solving problems and helping people. It's something I've enjoyed all my life," she enthuses. It's no surprise then, that she jumped on the opportunity to head up the IET's LGBTQ+ staff network.
A safe and welcoming work environment for LGBTQ+ employees and allies
"This network supports our staff – both LGBTQ+ employees and allies – by making sure that the environment they work in is safe, welcoming and that they feel they can bring their whole selves to work and feel comfortable," she says.
"It's a mixture of providing information and support, as well as allowing people to network. It's very much not about outing people, it's just providing space for people to come together – if they want to," she explains.
The staff network has been supported right up to the executive level of the organisation, with Amy first discussing the idea at one of the IET's regular town hall meetings. Her line manager has even gone as far as allowing her to take 10% of her time to manage and nurture the network. "It was really kind to allow me to take that time away from my normal role," she says.
Taking care of each other
Amy reached out to every person who contacted her after that first meeting to make sure they knew she was there to support them whenever needed.
"This was during lockdown; a time where staff members might potentially be stuck in a bad – homophobic or transphobic – environment with less understanding individuals. I made sure I reached out to everyone to check they were in a safe space. Thankfully we all were."
The network is still very young, but it's already joined the LGBT rights charity Stonewall, giving it an "external face" says Amy, which shows it's not only committed to IET staff but also the wider engineering community. "In time we hope to find ways for our staff group to engage with the existing IET LGBTQ+ Network," she notes.
As a trans woman, Amy has only ever found the IET to be inclusive and welcoming. "Honestly, the IET has been a lovely place to work and I've not heard of any cases of it being otherwise. It's got a big family feel, and that's what you want – a loving environment to work in. An environment like this makes a person want to thrive, and also enables them to do so," she concludes.