Start of main content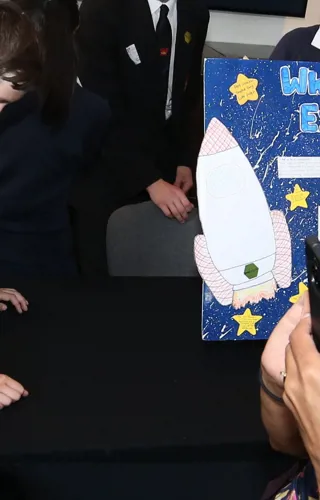 What if you changed a person's life?
As the IET's Fundraising and Campaign Development Manager, Bhavini Bhatt is responsible for developing and growing the organisation's funding streams.
The money raised is used to introduce thousands of children to engineering and technology each year through engaging competitions such as the FIRST LEGO League and Faraday Challenge Days, where pupils are tasked with solving real-world STEM challenges. It also supports those looking to start a career in the sector through the IET's range of scholarships and bursaries.
"We invest in programmes
for school children, but
also for those who've
chosen to take their first
steps in an engineering or
technology career"
Futures Fund
All these programmes fall within the IET's Futures Fund; an umbrella term Bhavini created to express how the donations are spent.
"These programmes are all about the future; about future engineers and technicians. We invest in programmes for school children, but also for those who've chosen to take their first steps in an engineering or technology career," she explains.
Bhavini's role is to support these projects but also expand the schemes on offer. The work she does is very communications led – she's always connecting with companies, charities and individuals to highlight the IET's work in this area and also show supporters the results of their donations.
Relationships with donors are created and nurtured, which means you'll often find Bhavini at events, and on some occasions, she might be the only contact an individual or organisation has with the IET. "I take this responsibility very seriously," she says.
However, behind the scenes, there's also a lot of desk research, and liaising with internal colleagues.
"I'm balancing everyone's needs; from the children and young people that benefit from the programmes to the donors and internal stakeholders. I work closely with my colleagues in different departments like Education and Awards and Scholarships to promote and support their programmes."
Putting together a jigsaw puzzle
Her work is like putting together a puzzle; bringing the pieces – the needs of each stakeholder – to the table and making them fit together in a way that everyone benefits.
"For the students, this might be the financial support we provide, for the IET it's the value a successful programme adds. For the donors, it can attract new applicants or diversify their talent pool. It's all about making sure everyone's interests are promoted."
Building a world of better opportunities
Bhavini appreciates the freedom the IET has offered her to grow in her role, in fact, she's actively been encouraged to pursue new ideas and follow her hunches.
"Even if something doesn't come off, we learn a lot of things along the way. That freedom is invaluable."
Making a real difference
But what she loves most about her work is the ability to make a real difference to so many lives. "That's fundamentally my job as a fundraiser if I wasn't then I'd be failing. I get huge job satisfaction from making a difference to individuals, that's what fundraising is all about!
"Meeting the people we get to help is by far the most enjoyable bit of my job," she continues; "knowing that our support has positively helped someone through a difficult period or provided them with a fantastic experience is rewarding.
"If I've had a little part to play in that, well, that makes my day!"